Frequently Asked Questions (Dependency Manager)
Q. How will links appear differently after DM has been activated?
A. URL links will function the same on published pages after the DM update; however, if you use the standard OmniUpdate (WYSIWYG) editor to add a new link to a page, the link address will appear as a DM tag in the Insert/Edit Link popup window. The actual link address will appear below it (see Figure 1):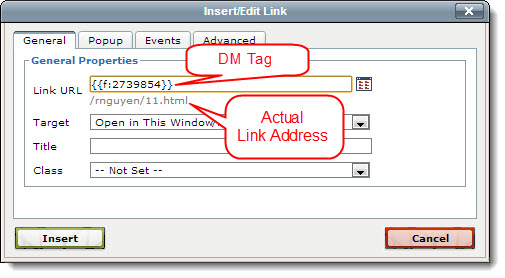 Figure 1: Sample DM Tag
Q. Will my existing links work after the update?
A. Yes, during the update all existing links to OmniUpdate pages will be automatically converted to the DM tag format.
Q. What is a DM tag?
A. Existing links appear in the following format /it/index.html. After the update, links will be replaced with a DM tag similar to the following: ***BrokenLink***. DM tags are visible inside the WYSISYG editor, but will display the normal URL path when viewed on a published page.
Q. Will DM work for both relative (e.g., /folder/folder/index.html) and absolute URL links (e.g., /it/index.html).
A. Yes. DM will work for both relative and absolute (also known as fully qualified) URL links.
Q. Does DM work on folders?
A. Yes. If a linked page or folder is renamed or moved, DM will update all links to that page or folder.
Q. Does DM work on non-OmniUpdate pages.
A. No. DM only works for pages that have been converted into the OmniUpdate template. Links to pages outside of mtsac.edu will not be updated with the DM tag, however, the link will be checked during the publishing process.
Q. My popup window says "files will need to be re-published. Are you sure you want to rename this file?" Is it safe to click OK?
A. Yes. DM will update any links that are currently live. It knows which files were last published and will automatically fix the links on those pages. DM will not "check in" files that have not been saved and published.
Q. How do I know if I have broken links?
A. Click Dashboard/Broken Pages as highlighted in Figure 2. This will display any pages that contain broken links.

Figure 2: Broken Pages
Q. How does DM alert you if you delete a page that links to it from other pages?
A. When you select a linked page and click the recycle bin, two pop up windows will be displayed. The first tells how many files/pages will be marked as broken. The second lists the pages that now have broken links due to this deletion: