SPOTLIGHT
---
---

Take a Course Catalog this Fall to help stay on your pathway to success! Choose an option that meets your need:
LIBR 1: 3-unit online
LIBR 1A: 1-unit online 8-week late start (waitlist open)
---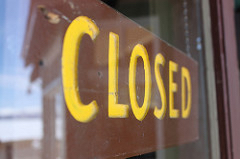 The Library is closed from Thursday, August 1 to Sunday, August 25. Have a wonderful break! See you in Fall 2019.
Image: "Closed Sign in Yellowstone" by Bryan Mills is licensed under CC BY 4.0.
---
Featured Events
Questions? Ask us! Chat | Email | Call | Feedback | Suggest a purchase | Report a problem | NEW Library survey