2022-2023 Request for Federal Direct Loan
Federal Direct Loan (Sub/Unsub) Loan Request Deadlines
| | |
| --- | --- |
| 2022 Fall Semester | November 9, 2022 (by 7:00 PM) |
| 2023 Spring Semester | May 10, 2023 (by 7:00 PM) |
2022-2023 Direct Loan Interest Rate and Fee
Fixed Interest Rate: 4.99%
Fee: 1.057%
Subsidized and Unsubsidized Aggregate Loan Limit
| | Dependent Students (except students whose parents are unable to obtain PLUS Loans) | Independent Undergraduate Students (and dependent undergraduate students whose parents are unable to obtain PLUS Loans) |
| --- | --- | --- |
| Subsidized Loan Limit | $23,000 | $23,000 |
| Unsubsidized Loan Limit | $8,000 | $34,500 |
| Total Loan Limit | $31,000 | $57,500 |
Requirements and Criteria needed for a student loan:
You must have a completed Free Application for Federal Student Aid (FAFSA) on file with Mt. San Antonio College.
All loan requests must be filled out completely and are reviewed on a case-by-case basis.
You MUST be enrolled in at least 6 degree applicable credit hours for disbursement of your loan. If enrolled in distance learning courses you may be required to submit a mid-term Work In Progress (WIP) before loans are disbursed. DROPPING BELOW SIX (6) CREDIT HOURS/UNITS will result in cancellation of loan funds and/or return of funds (student must complete EXIT counseling at https://studentaid.gov/).
You must maintain Satisfactory Academic Progress (SAP) status of "Satisfactory", "Probation" or "Warning". Progress status of "Suspended" is deemed ineligible for loans.
Having an Appeal approved does not mean that your loan request will be automatically approved.
As part of our default prevention plan, all student loan applicants must have completed their Assessment Questionnaire (AQ) as determined by the counselor or educational advisor prior to obtaining a FULL/COMPLETE Educational Plan to ensure academic goals, progress and separation/completion date of the declared major of study.
Electronically submit your Federal Direct Loan Application and required documents through the Mt. SAC Financial Aid Office's Adobe Sign System.
Deadline to electronically submit loan documents through Mt. SAC Financial Aid Office's Adobe Sign System the during Fall 2022 is Wednesday, November 9, 2022 by 7:00 PM. Deadline to electronically submit loan documents through Mt. SAC Financial Aid Office's Adobe Sign System the during Spring 2023 is Wednesday, May 10, 2023 by 7:00 PM. Late documents WILL NOT be processed. NO EXCEPTIONS.
The total financial aid awards, including loans, cannot exceed the student's cost of attendance. Loan amounts may be adjusted at any time to accommodate new awards such as grants, scholarships or other types of resources.
An Electronic Master Promissory Note (E-MPN) must be completed online. For new loan borrowers, you need to complete online Entrance Loan Counseling, Financial Awareness Counseling (Optional - until requested by Financial Aid Office) and an electronic MPN.
If you are approved, you will receive a Disclosure Statement from your loan servicer once the loan has been certified. It will include a payment chart and other important information regarding your loan.
Check your Financial Aid Requirements within the Financial Aid tab on your Mt. SAC Student Portal for any updates to your loan request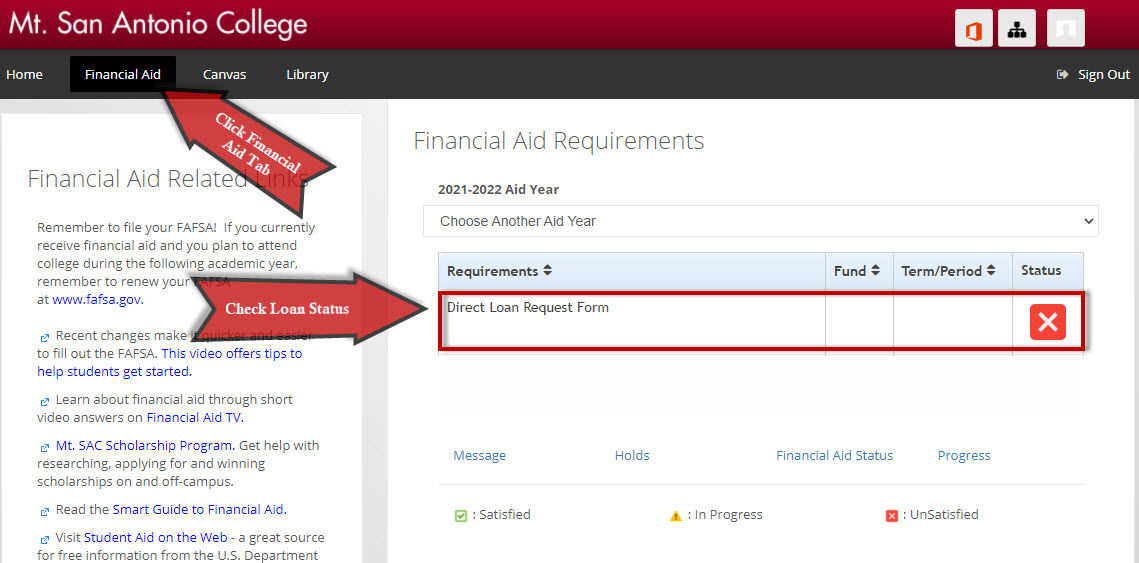 Section 428(a)(2)(F) of the HEA permits an institution to refuse to certify an otherwise eligible borrower's FFEL programs and Direct lending loan applications, or to certify a loan for an amount that is less than what the student would be otherwise eligible for, if the reason or such action is documented and provided to the student in writing. This includes the authority to refuse to certify a loan application based on the institution's belief that the student is unwilling to repay the intended loan. This provision is effective for the loan applications certified on or after April 9, 1991.
Visit the Federal Student Aid website at https://studentaid.gov/ to complete:
Sign in with your FSA ID and follow the instructions for completing each of the counseling sessions and electronic MPN.
SAVE the Entrance Counseling completion confirmation page and electronically submit with your loan request.
Optional (until requested by Financial Aid Office) - If you have previously completed the online Entrance and Financial Awareness Counseling, please save the results and attach them to your loan request.

Other important resources we recommend you read: