Equity Center
Welcome to the Equity Center at Mt. San Antonio College! We aim to create an inclusive space where students can thrive and aim for success. We are the home to four programs: ARiSE, ASPIRE, DREAM, REACH.
MT. SAC Equity Center COVID-19 UPDATE
The Mt. SAC Equity Center Center is temporarily closed until further notice. However, the Equity Center continues to offer services remotely. If you need support/assistance, have a general question or would like to know more about our programs please feel free to contact us with any of the options below:
Call or text: 909-784-5255

Email: equitycenter@mtsac.edu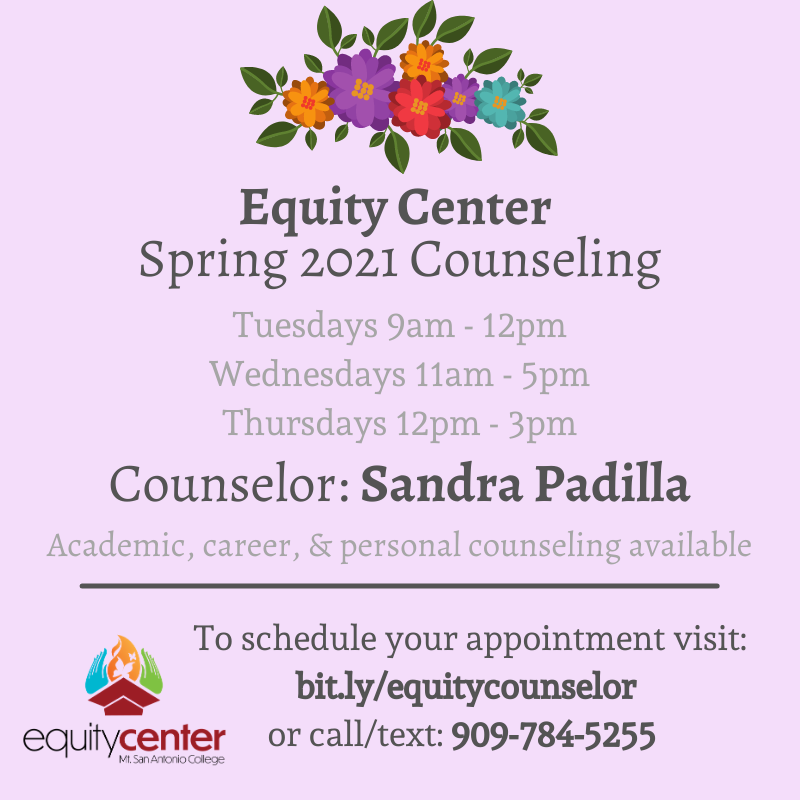 Equity Center Spring Counseling Hours with Sandra Padilla:
Tuesdays 9am-12pm, Wednesdays 11am-5pm, Thursdays 12pm-3pm
To schedule a counseling appointment visit the following link: http://bit.ly/equitycounselor
You can also call or text the following number to schedule an appointment: 909-784-5255
Additional resources:
Spring hours: Monday-Friday, 8:00 a.m. - 4:30 p.m.
Call or text us: 909-784-5255
Email us: equitycenter@mtsac.edu