Compare Costs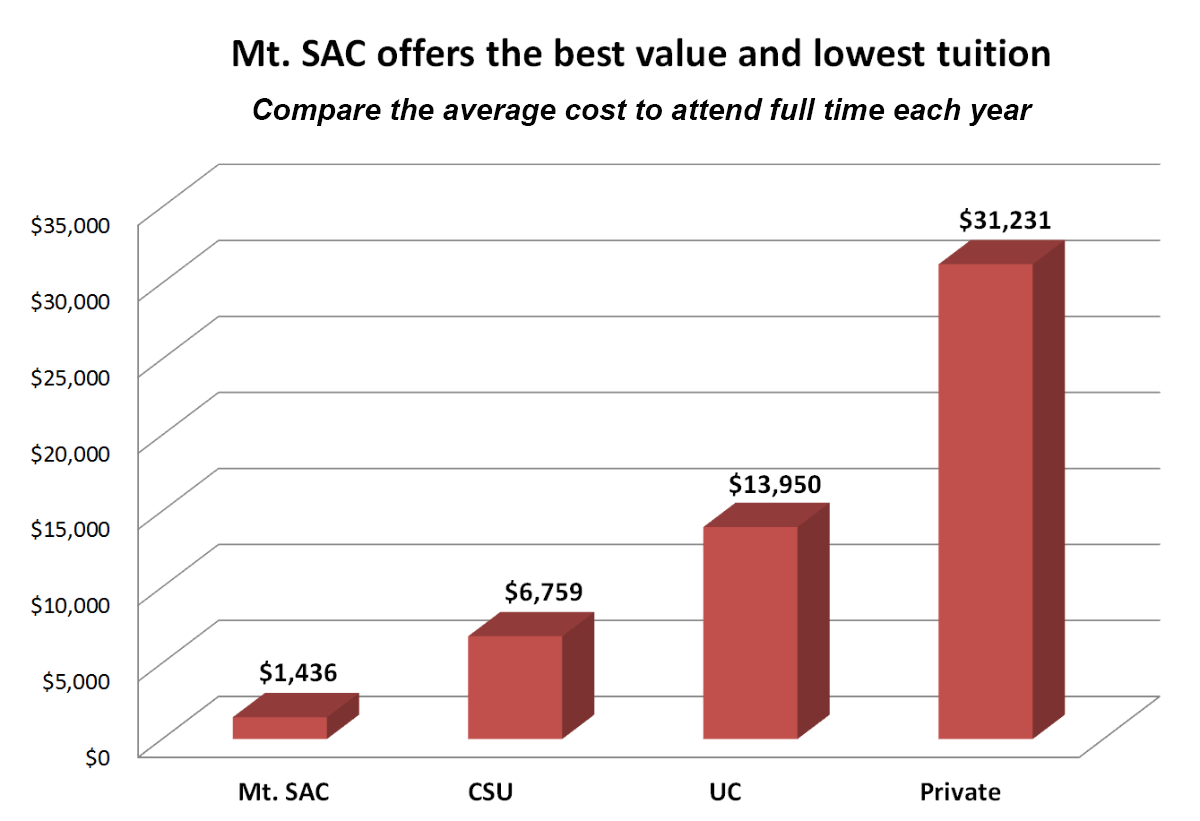 With classes at just $46 a unit, Mt. San Antonio College offers high-quality education for a lot less than UC, CSU, and private colleges. Students can save tens of thousands of dollars by starting at Mt. SAC and then transferring to a four-year university or using their degree or certificate to get a well-paying job. Mt. SAC offers:
Same general education classes for 1/5 the cost of (80% less than) California State University (CSU) institutions
Same general education classes for 1/10 the cost of (90% less than) University of California (UC) institutions
Same general education classes for 1/30 the cost of (97% less than) private universities
Tuition and Fees

Classes are just $46 a unit for California residents. On average, it costs just $1,400 per year to attend Mt. SAC full time. Many students, 72% to be exact, receive financial aid to bring this cost down even further. For a detailed list of the costs to attend Mt. SAC, visit the Fees webpage. If you have any questions, contact the Cashier's (cashier's) office at (909) 274-4960.
Financial Aid and Scholarships
There are numerous programs that make Mt. SAC the best choice for an affordable education. About 3 out of 4 students receive financial aid. In addition, most receive the California Community College California College Promise Grant (BOGW), which waives the enrollment fee and provides a reduced cost for health and parking fees for qualified California students. We also have more than $200,000 in scholarships for students each year.
Learn more about Financial Aid Learn more about Scholarships
Calculate Your Costs for College
Mt. SAC provides a Net Price Calculator to help students estimate their college costs. The "net price" of college is the real price that a student pays -- the cost minus the financial aid awards you might qualify for. Our Net Price Calculator can help you estimate the true cost of attending college at Mt. SAC and give you an idea of the types of financial aid awards you qualify for. You can find out more and use our net price calculator.