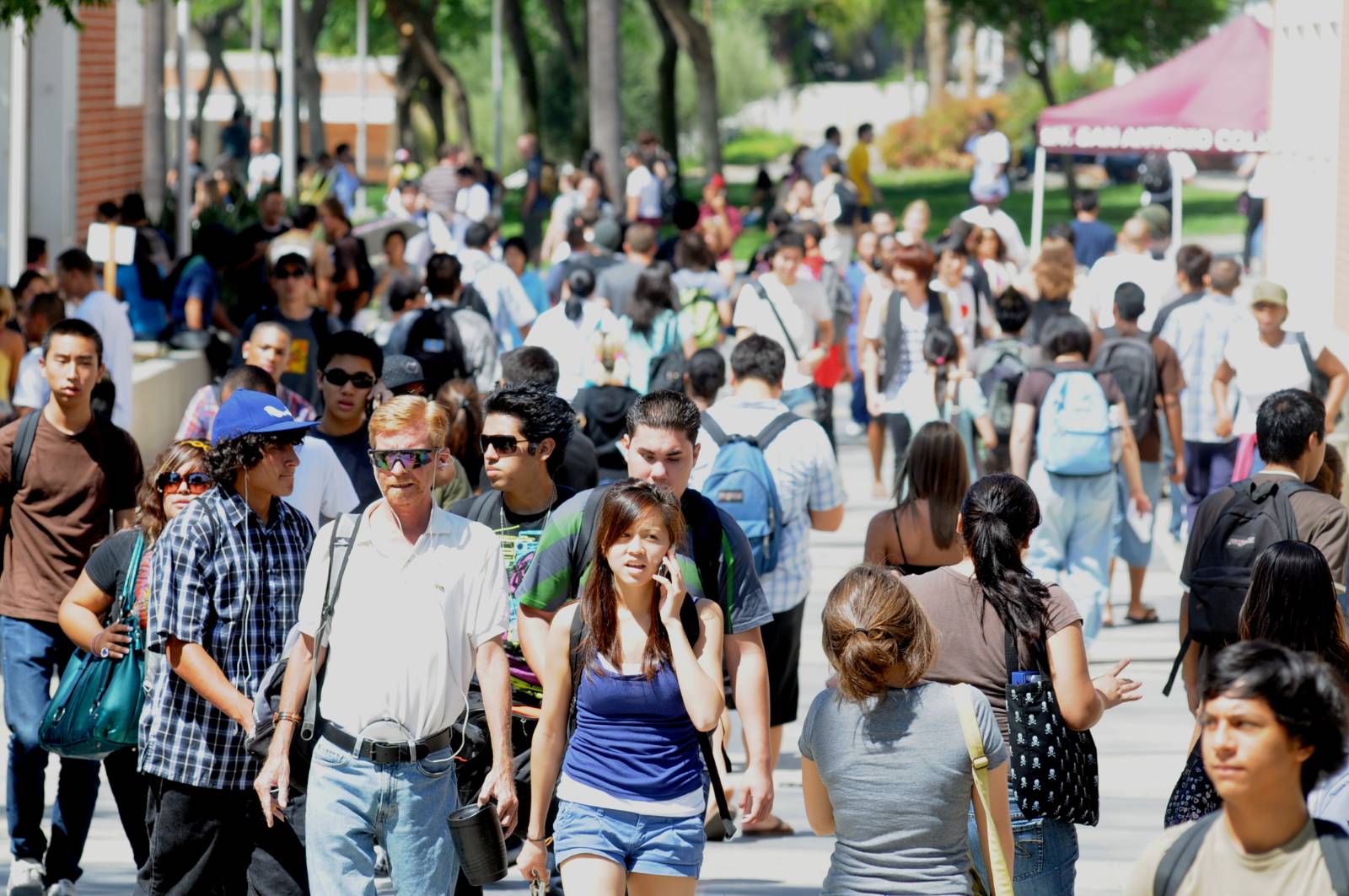 At a Glance
At Mt. San Antonio College, diversity is what brings our campus to life. Our students come from unique backgrounds and are all at different places in their lives. Some are here straight from high school, while others have families and full-time jobs, but they are all here for the same reason: to achieve their goals through education.
Here is just a peek at our student population:*
53.1% are female and 44.7% are male
74.2% are 29 years old or younger, 14.2% are between 30 and 49, and 11.5% are 50 or older
53.2% are Hispanic, 17.9% are Asian, 13% are Caucasian, 4.2% are African-American, 3.4% are Filipino, .3% are Pacific Islander, and .2% are American Indian or Alaskan Native
51.7% are part-time and 31.1% are full-time
80% take classes during the day and 17% take night classes
*note: Numbers do not add up to 100 because some students selected "unknown" or chose not to respond.
At Mt. SAC, our students can get the complete college experience without the college debt
1/5 the cost of (80% less than) California State University (CSU) institutions
1/10 the cost of (90% less than) University of California (UC) institutions
1/30 the cost of (97% less than) private universities
72% of students receive financial aid to help them pay for tuition, supplies, and living costs
More than 25,000 Mt. SAC students get financial aid
Mt. SAC has given over $68.5 million in financial aid to students
We pride ourselves on the excellence and variety of our academic programs. With so many different paths to choose from at Mt. SAC, if you start here you can go anywhere.
Mt. SAC is a Top 10 California Transfer College
200+ degree and certificate programs to choose from
200+ professional development and community courses
25+ free and low-cost support programs to help students succeed in college
Thanks to our thriving campus environment and exciting student teams and clubs, Mt. SAC students get the complete college experience.
More than 50 student clubs
22 athletic programs
State-of-the-art facilities, classrooms, and workshops
Best technology and top-of-the-line equipment to help students learn
Mt. SAC has 25 free and low-cost student support programs to help our students succeed.
ESL (English as a Second Language)
Career Counseling
Basic Education Counseling
Skills Classes
GED Program
Tutoring
Writing Center
Health Center