The Great Staff Retreat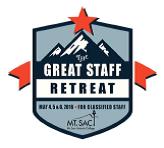 January 15, 2019 - 01:42 PM
The Great Staff Retreat is a staff development opportunity that provides employees with inspiration and professional growth. It provides an opportunity to employees for time away from their jobs, with full compensation, to communicate ideas and issues with other employees facing similar job situations.
Retreat: May 1 - 3, 2019
Application must be completed by March 6, 2019.