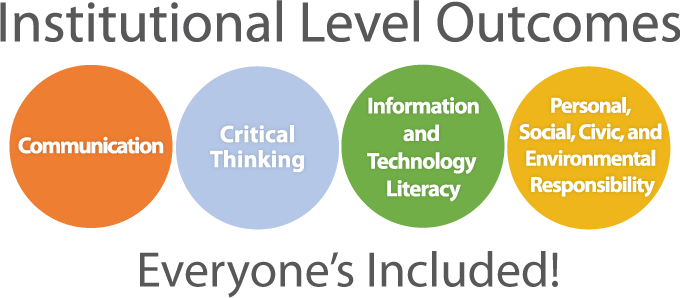 Institutional Level Outcomes (ILOs) represent the evolution of "GEOs Re-Imagined" founded on the idea that all of Mt. SAC's employees contribute to the success of our students by empowering their educational experiences with these core competencies.
Institutional Level Outcomes are statements about the knowledge, skills, abilities, and attitudes that students are expected to develop as a result of their overall experiences with any aspect of the college, including courses, programs, departments, and services.
All college personnel directly or indirectly impact the student experience including faculty, administrators, and staff.
---
Institutional Level Outcomes (ILOs) were presented to the campus during a Spring 2015 Flex Day Presentation. An abbreviated version of this presentation is shared below.
Institutional Level Outcomes Presentation