FINDING CLASS ROSTERS & CRITICAL DATES
FINDING YOUR CLASS ROSTERS:

PRINTING YOUR CLASS ROSTER:
1. To print class rosters, click on the Faculty tab at the top of the page to view the channels created especially for faculty use.
2. On the right hand side of the screen in the Faculty Self Service menu click on Print Your Class Rosters.
3. Select the current term and click the Select Term button.
4. Select one or more of the CRNs (course reference numbers) and click the Create Roster(s) button.
5. Use your browser's print function to print your class rosters.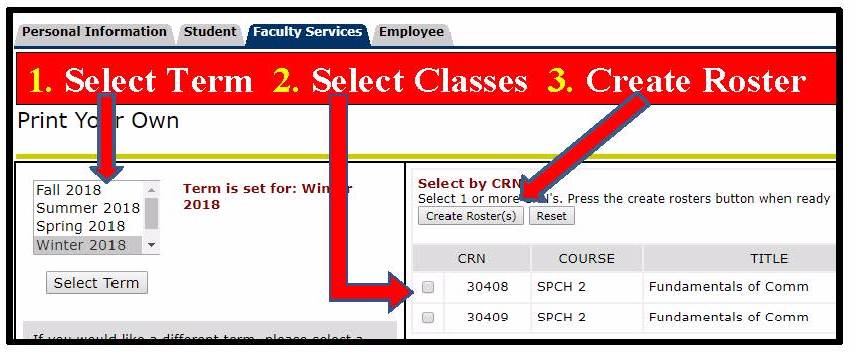 FINDING THE SEMESTER'S CRITICAL DATES:
Once you create your class rosters, you'll see the semester's critical dates at the top of your roster.
You'll want to note the Census Date and drop inactive students by that date.
To help students stay informed, you may also want to copy/paste these dates onto your syllabus.