Infant/Toddler - Early Head Start Program
---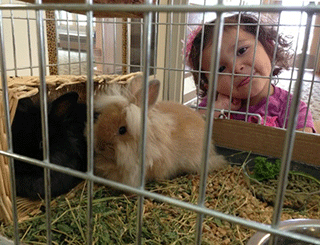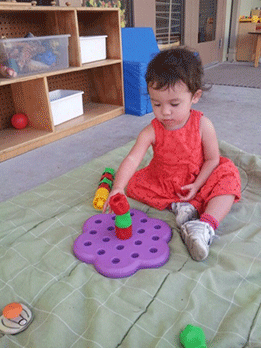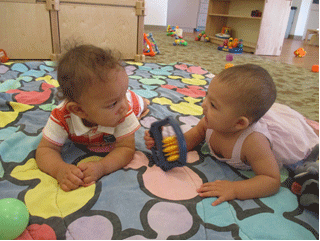 ---
The Infant/Toddler Program incorporates components of the WestEd Program for Infant/Toddler Caregivers (PITC). This program serves children from 3 months to 2 years – 11 months of age consists of the following components:
Primary Care Giving – Infant/Young Toddler
Infants and toddlers are assigned to a primary caregiver who is responsible for the daily care of a small group of children. When infants and toddlers develop attachments, they are more likely to explore their environment. A nurturing environment fosters creativity and development.
Continuity of Care
Infants and toddlers remain with the same caregivers from 3 months through 3 years old. This allows children, caregivers, and families to develop and maintain trusting relationships over time.
The teaching staff also maintains ongoing anecdotal records and assessments of children's progress which are regularly shared with parents.
Feeding
The Child Development Center provides food and formula for children in attendance as part of the Child and Adult Care Food Program (CACFP).
Parents need to bring one bottle each day which staff will refill if needed. If your child has dietary restrictions of a personal or religious nature and is unable to eat the foods we provide, you may "opt-out" of the meal program and choose to bring your own baby foods and/or formulas. If the dietary restriction is a result of a medical condition (food allergy) or disability, the Center will provide physician suggested alternatives. Therefore, all medical/disability dietary restrictions must be diagnosed by a physician and documented on the appropriate form provided by the Center.
Mothers who breast feed are encouraged to continue to nurse their infants. Expressed milk may be stored in the designated freezer in a completely sealed container or other receptacle, and MUST be appropriately and clearly labeled. Arrange a time with your child's teacher so that you and your child can continue to benefit from this special experience, the Center will ensure a private safe space is available to you.
Weaning and Toilet Learning
Weaning from the breast or bottle and toilet learning are major transitions in young children's lives. In order to help these transitions occur as smoothly as possible, parents and caregivers need to form a partnership.
Classroom Ratio
The Infant ratio of qualified adult to child is 1:3, meaning 1 Teacher to every 3 Infants. The Young Toddler classroom ratio is 1:4 and the Older Toddler classroom is 1:5. The Child Development Center, as a CDE contractor, may also apply Title 5 ratios and exemptions where applicable.
Early Head Start Program
Mt. San Antonio College Child Development Center is excited add a new layer to its child care program component. The childcare partnership with Baldwin Park Unified School District (BPUSD) provides early education and childcare services to low-income constituents of Mt. San Antonio College at no cost to enrolling families. Early Head Start childcare partnership is a federally funded program through the United States Department of Health and Human Services and is focused on combating generational poverty within communities. Early education and childcare is one of the four key components of the program and will be provided by the Mt. San Antonio College CDC. The BPUSD will provide all other key components of the Early Head Start Program including health services, parent involvement, and social services. The EHS classroom operates Monday through Friday, from 8:00 am to 2:30 pm.