ESL Tutoring Student Testimony
---
Motivated For Success
By Mark Edward Osea, LLC
Ever since the ESL Tutoring was launched at the beginning of the Spring 2015 semester, one student stood out from all the rest.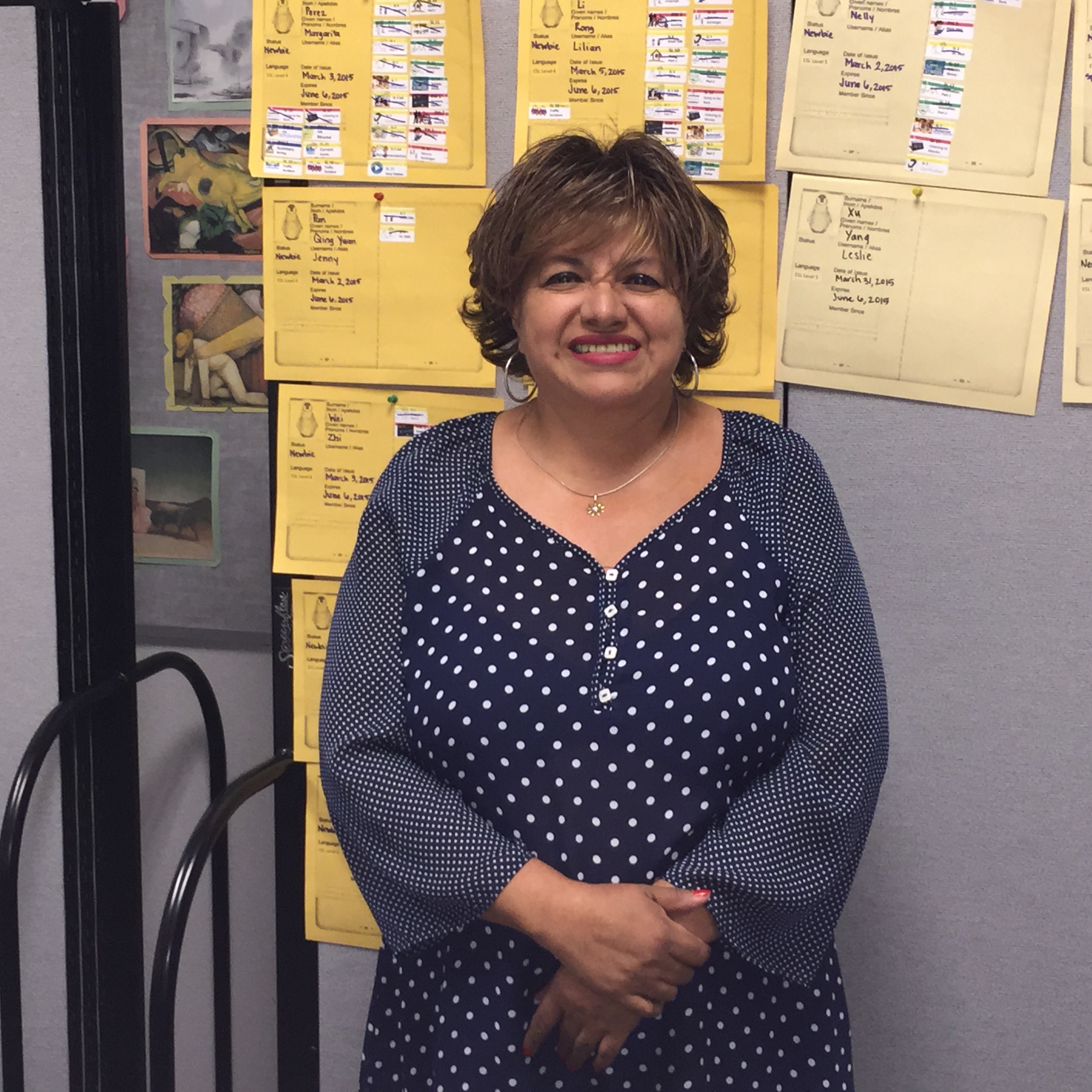 Margarita Perez, an ESL Level 4 student, not only frequently visits the ESL Tutors, accruing more than 60 hours of LLC lab time, but she has also completed all of the 35 Self-Directed Learning Activities (SDLAs) developed by ESL professors Monica Cueva and L.E. Foisia.
We caught up with Margarita, and sat down with her to share her experiences using the ESL Tutoring resources, and the overall benefits of being an active participant in the program.
1. Why do you want to learn English?
I want to improve my English because I want to study Master's in family law so that I can fight for the rights of children and family and stop the abuse of children.
2. Why do you frequently visit the ESL Tutors?
The tutors help me a lot in speaking and writing. They correct my pronunciation, and I have the opportunity to practice my English with a native English speaker. Because they are also teachers, I have another opportunity to learn about real life with the SDLAs. The tutors are patient and passionate for helping me. It is a good opportunity for students to use the LLC and the tutors.
3. What is/are your favorite SDLA(s)?
- The "Job Interview" because it is useful in the real world.
- "Make a Reservation" because I have an opportunity to make a reservation at a restaurant. It is good practice because I have to make a reservation over the phone. It is different than face-to-face. Over the phone, the people always speak very fast so you have to catch the keywords for the best answer. It is good practice.
- "Traffic Accident" because it focuses on a real situation, and they also give you some advice that you need to do in case you have an accident. It is very useful.
4. How has the ESL Tutoring Program helped you better your English language study?
In many ways. First of all, my writing is getting better and better and my speaking because they use phrasal verbs and idioms. This is very important in America because English is relaxed, but not very informal. It is casual. You don't need to use the exact words to say the same thing. You can say something in a short way. Also, they help me with my writing because I need to study Master's so I need to improve my writing skills. So in many ways it is useful. Finally, by talking with an American person, it is a good opportunity to know about the life in America because they give you some tips, some information that you might never find in another place. For example, what is a good place to visit on the weekend? This has helped me because I speak face-to-face with the teacher who also is a friend.
5. What would you tell your classmates who have not visited the tutors yet?
I always talk with my classmates. In LLC there are programs to improve the English and also it is a good opportunity to know about real situations and practice your listening because there are many SDLAs. You put into the computer the link to refer immediately what you need to practice. You use the headphones; we can repeat and record to listen to your pronunciation and the link refers to a webpage that is useful to you. It is a specific webpage recommended by the teacher. When you have time, don't lose the opportunity because you have a chance to win a prize. When I received the certificate for the first part, my teacher told me to share with my classmates why I received it, I said it was a great opportunity. Because if Mt. SAC provides it and you don't use it, you lose the opportunity. It's also free! The LLC has a great team and all the people want to help you.