Summer Bridge Welcome and Registration Event
Summer Bridge Students
Summer Bridge Carnival
Dia de los Muertos face painting
UCLA Stomp Conference
Bridge students studying
Summer Bridge Closing Ceremony
Bridge Program
The Bridge Program is a student support program that offers several learning communities designed to increase students' academic and personal success. Students participating in a learning community are enrolled in linked or clustered classes that are taught in a cooperative environment between instructors.
The learning communities we offer during the academic year include Summer Bridge (hyperlink to the Summer Bridge TAB) and Math Bridge and English Bridge offered in the Fall and Spring semesters (hyperlink to the Fall and Spring Bridge Tab). Each learning community focuses on a specific academic need and has an assigned counselor to assist students. The Bridge Program is especially designed for students who can benefit from additional academic support, are economically disadvantaged, and need additional support in their first year at Mt. SAC. Bridge students also form lasting friendships. They tend to share educational goals, interests, and similar backgrounds. We work with students to promote their graduation and transfer success to universities. You might just find our program to be the "bridge" you need to cross over your obstacles to success!
We're Hiring Office Assistants!
See below for more information. Applications are due Monday, September 20.
Information sessions are available, details below
Connect with a Bridge Success Coach

Bridge Success Coaches

Our Bridge Success Coaches are here to support you and answer any questions you may have. As former Mt. SAC students, they can help guide you and provide you with the resources to be successful college students.
Video: How to make an appointment online:

Bridge Fall 2021 Upcoming Events
Sign up to watch Hamilton
When: Thursday,October 14, 2021 4pm - 11pm
What: Bridge and MMI students are welcomed to watch Hamilton live at the Pantages Theater!Read the flier for more details.
Reserve your seat by completing these 3 steps:
1. To attend please RVSP here by the end of the day on October 4
2. Complete this medical release form
3. Email your complete medical release form and Covid-19 Vaccination record to bridgeprogram@mtsac.edu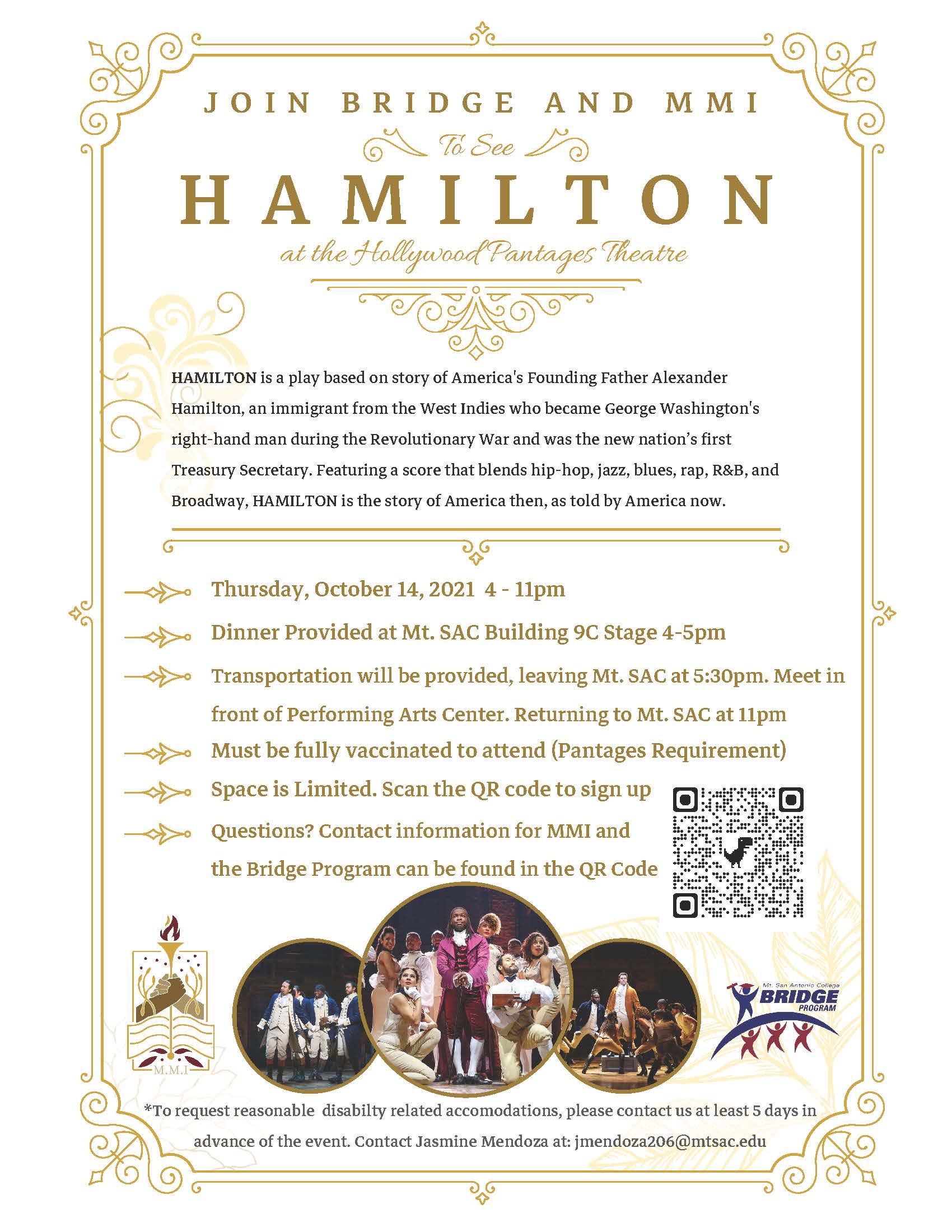 Tips For Online Learning Success

Network!
Build a support system. Meet your classmates and professors early in the semester! Go out of your way to exchange contact information. You can access emails via Canvas
Manage Your Time Wisely!
Online courses give you flexibility, but do not fall behind. Set the same time aside that you would for face-to-face instruction.
Review Syllabus + Have An Agenda
Create an agenda with due dates of all your assignments. Staying organized with your notes and agenda will allow you to be productive when you're ready to study.
Designate Work Zones!
With online courses all your time is outside of the classroom. Designate a work space that will work for you. If possible, communicate with others in the household.
Communicate!
Send an email, text, or attend professors office hours if you have any questions or need assistance with class assignments. Professors want to assist you as best as possible.
Use Your Resources!
Seek out tutoring and student support services. Most services are available online just like you would receive them face-to-face. Check online to access them.
Take Care of Self!
Take care of your mental, emotional, and physical health. Go on a walk, talk to a friend, do arts & crafts, etc. Taking care of your well-being will help you academically.

About Us/ History

History of the Bridge Program

The Bridge Program began as the first learning community at Mt. San Antonio College, originally known as the Student Success Summer Academy. The beginning foundation for this program was initiated in 1997, but first became available to students for the summer term of 1998. The purpose of the program was to help students who just graduated from high school and prepare them for the rest of their journey in higher education. The first class in 1998 consisted of 82 students. These first-time college students experienced obstacles due to socio-economic and academic issues, but were given the support and the tools needed to overcome these challenges through the Student Success Summer Academy. Courses that were offered, were basic skills writing and counseling courses. They also had to participate in a "community" class. The Student Success Summer Academy also offered great support from counselors, peer advisors, tutors, and other staff. The success rate for the summer term of 1998 was 96%.

Today, the Bridge Program celebrates 22 years of success, and continues to assist students transition from high school to college, through the Summer Bridge Program, the English Bridge and Math Bridge learning communities offered in the fall and spring semesters. We serve over 350 students in the summer and over 500 students each semester.

Summer Bridge

The Summer Bridge program will be held June 21-July 29, 2021.

We're Hiring Office Assistants!

Interested in working part time on campus?
The Bridge Program is hiring Office Assistants

Benefits:
-Gain leadership skills
-Be a mentor to incoming first year students
-Work as part of a dynamic team

Important:
Applications are available on the Bridge website mtsac.edu/bridge
Applications are due Monday, September 20th

Interviews will occur during the first week of October. If hired, mandatory training will be on various Fridays in October, November, & December (Specific dates and times TBA)
If you want to learn more about this position, attend an information session:

Thursday 09/09 at 3:30pm-4:30pm
(Zoom ID: 984 8168 9855)

Monday 09/13 at 3:30pm-4:30pm
(Zoom ID: 913 3629 4962)

*Must be a current Mt. Sac student enrolled in 6 or more units.

Questions? Contact the Bridge Office 909-274-5392 | Bldg. 9E 2nd Floor

Bridge is Hiring flyer
Office Assistant Job Description
Office Assistant Application
Recommendation Form (2 required)