Important Update
We are looking forward to interacting with you face to face once more. Our temporary location for fall 2021 will be building 6-136. We can't wait to see you!
STEM Center Coaching
Fall coaching will begin August 30, 2021. Instructions to register for online coaching will be available here by August 30th. Please contact Dr. Reed if you have any questions at 909 274-5686.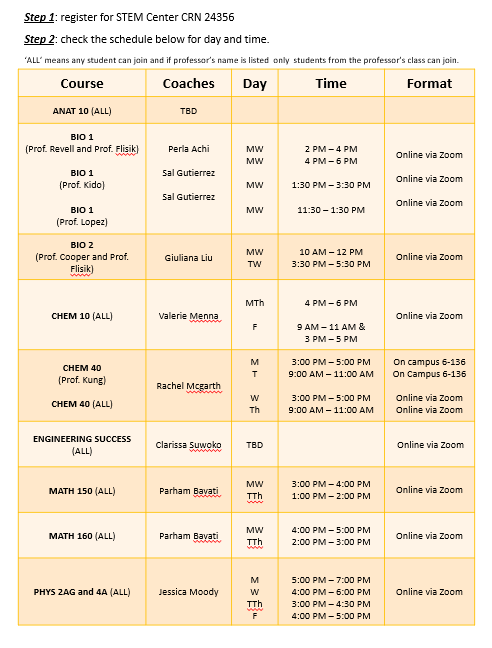 STEM Center Counseling & Resources
Due to the COVID-19 pandemic, your counseling appointment will take place remotely. Please wait for and expect a phone call from
the counselor at your scheduled appointment time.
STEM has three available counselors. To schedule a counseling appointment with a STEM Counselor, please schedule through the STEM Online appointment scheduler or call (909) 274-5686. Availability below:
Monday: Gracie 9:00am-3:00pm, Jason 4:00pm-7:00pm

Tuesday: Jason 9:00am-1:00pm, Rudy 2:30pm-7:00pm

Wednesday: Jason 9:00am-12:00pm

Thursday: No coverage

Friday: Gracie 9:00am-3:00pm
For general questions, email may be sent to: counseling@mtsac.edu
STEM Center
Mt. SAC STEM Center, located on the third floor of the campus' Math and Science Building, provides tutoring, peer-to-peer coaching, counseling, and general support services. Students who visit the center will find a study area stocked with microscopes, laptop computers, and even skeletons for anatomy students. The center is available to any math, science, or engineering student. But, it is also used by the STEM Teacher Preparation Program, Robotics Team members, and students in two of the campus engineering clubs. Approximately 200 students use the center each day.
Our Staff
Dr. James Reed
Project-Program Coordinator, STEM

Dr. Baochi Nguyen
STEM Faculty Mentor
STEM Center

Fall 2021
9 am - 8 pm Monday
9 am - 8 pm Tuesday
9 am - 8 pm Wednesday
9 am - 8 pm Thursday
9 am - 5 pm Friday
Closed Weekends and Holidays


6-136
(909) 274-5686
stem@mtsac.edu
www.mtsac.edu/stem
Would you Like to receive news and updates about activities and events at the STEM Center?
Please click on the link and subscribe to our e-mail list to keep up-to-date!
About
Project RAISE, a regional alliance in STEM education, is a Department of Education Title III HSI-STEM grant awarded to CSUF beginning October 1, 2016. Project RAISE integrates a variety of services and project components to increase the number of Hispanic and low-income STEM students and increase persistence, retention, and graduation rates among participants.
Students can engage in:
Undergraduate Research Program (URE), an 8-week summer research experience guided by CSUF faculty
RAISE Transfer Program (RTP), a peer advising and academic support program for students who transfer to CSUF
Summer Internship Program (SIP), a summer internship program for RTP participants, in collaboration with the Orange County Business Council
Outreach visits to CSUF for presentations and lab tours
Community college and campus partners:
Participate in advisory board meetings three times a year to discuss grant objectives and activities
Attend the annual STEM articulation conference to clarify transferring procedures
Collaborate with Project RAISE staff to host workshops on community college campuses
As STEM curricula are extremely hierarchical, it is important for community college students to complete STEM prerequisites needed to advance toward a bachelor's degree before transferring. Project RAISE hopes to assist community college students to determine for themselves which courses will transfer to CSUF STEM degrees.
Transferology will empower Project RAISE community college students by giving them immediate, free access to the information they need to determine whether their courses will transfer. Member institutions, including CSUF, provide articulation information and catalog descriptions on their course offerings to Transferology.