About the Faculty Center for Learning Technology (FCLT)
The Faculty Center for Learning Technology or FCLT is home to Mt. SAC's instructional design and distance learning units. Housed within the division of the Library and Learning Resources, the FCLT offices are in the Library Building on the 2nd floor, office 6-262. Currently, the FCLT is working remotely. Contact information for each member of the FCLT team can be found below.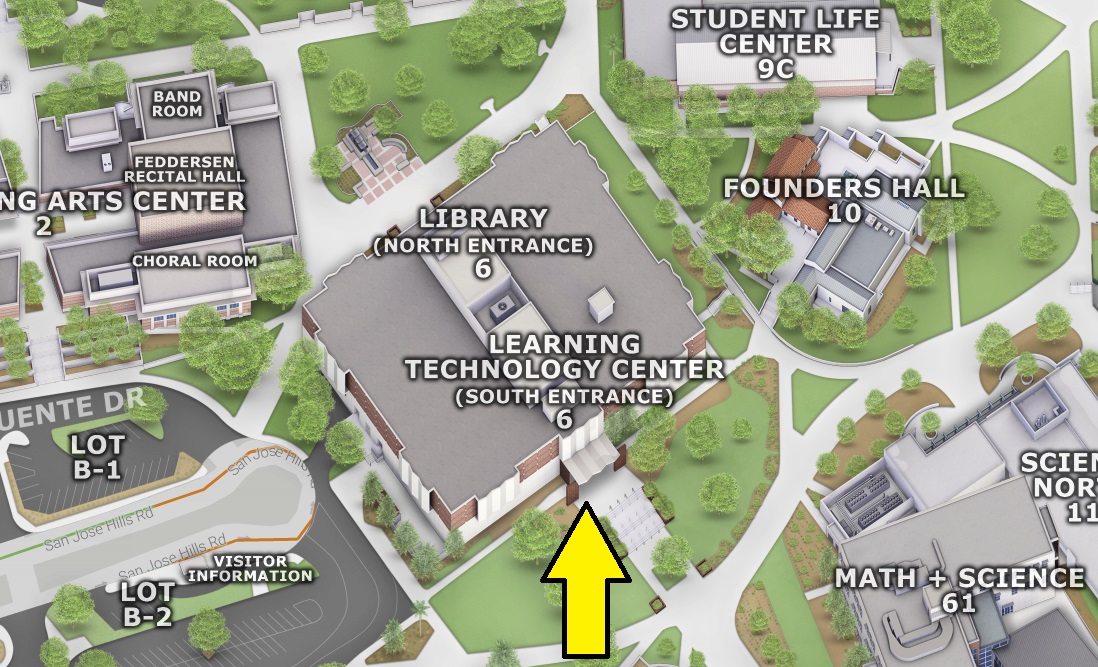 The FCLT team consists of two instructional designers, the distance learning faculty coordinators (who are reassigned faculty), and the Library and Learning Resources division computer technician. Please contact us using General contact info (below) if any of us can assist you, or if you are working with a particular person already, you can find their individual contact information below. Please contact the general info rather than cc'ing multiple people to help us manage high volumes of email better. Thanks!
What FCLT does:
The FCLT team offers workshops on Canvas, other instructional technology, course design and course accessibility. We also design self-paced workshops and resource videos and guides specifically related to instructional design, using Canvas and other technology that is integrated in Canvas, works with Canvas, or is used in the service of instruction. We have created multiple self-paced resources for professors including the Mt. SAC Faculty Center in Canvas, which answers many common questions about our local Canvas account and integrated tools. We offer Office Hours and individual or small group consultation by appointment.
Where to go for requests & urgent help:
Please note that we are not a helpdesk! There are specific help desk resources for students and faculty for managing requests and urgent problems. Please use these rather than FCLT, it helps us greatly to manage our workload and do more of the work we are designed to do! There are two help desk options: Canvas help and IT help. our Mt. SAC Canvas Faculty Center course, or the Canvas guides. For tool or service requests, please see the Mt. SAC Help Desk Online. The FCLT has worked with IT to group requests into the helpdesk where you can find more info and make your request.
Canvas 24/7 Support

Chat or Phone help around the clock and through the weekends. They can help with many Canvas questions, but may be limited on local questions like enrollment. Access under

the HELP button in the left, gray menu in Canvas.

Mt. SAC HelpDesk Online service requests, tool requests, or issues logging in, accessing accounts, or managing enrollment or add/drops.
Photo
Name
Title
Office Location
Email
Phone
FCLT General for
Instructional Design
Please use our contact info. to the right if you are seeking
help for instructional design. This allows one of our team members to assist you more quickly.

6-262

fclt@mtsac.edu

(909) 274-5016

Catherine Datko
Director of Distance Learning and Instructional Technology

6-262D

cdatko@mtsac.edu

(909) 274 - 5963

Michelle Newhart
Instructional Designer

6-262B

mnewhart@mtsac.edu

(909) 274 - 5020

Eva Figueroa Morales

Instructional Designer

6-262C

efigueroa@mtsac.edu

(909) 274 - 5769

Hugo Aguilera
Applications Training Specialist

6-262A

haguilera@mtsac.edu

(909) 274 - 5300

Jannet Ortiz
Administrative Specialist III

6-262

jortiz265@mtsac.edu

(909) 274 - 5498
---