Accessibility in Canvas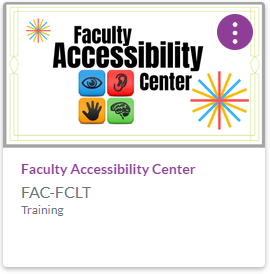 At Mt. SAC, the best way to get fast information about making content in Canvas accessible is to enroll in the Mt. SAC Faculty Accessibility Center. Any employee at Mt. SAC with credentials in our Canvas account can enroll in this course, which will give you ongoing access on your Canvas dashboard. You always have the option to hide the card or un-enroll if you wish to do so.
Enroll in the Faculty Accessibility Center in Canvas
About the Faculty Accessibility Center
The Faculty Accessibility Center is an open course in Canvas. This means that the pages can be viewed by anyone with a Mt. SAC Canvas login who has been provided with the page link. The Faculty Accessibility Center offers professors and Canvas course designers a one-stop resource for brief information on implementing accessibility in Canvas. This course covers many of the same topics that are found on the Mt. SAC accessibility web page, but with a specific emphasis on instructional content created within the Canvas learning management system. Below, preview pages in this open course (you may be asked to log into Canvas if you are not already logged in). If you'd like to have this course on your dashboard, enroll using the link above.
Canvas Accessibility Standards
Learn about Canvas accessibility standards in the Canvas Basic Guides. Here you will learn how Canvas has considered accessibility in the LMS features.
You may also wish to visit the Workshops page to see formal learning opportunities where you can learn about Canvas accessibility and earn professional growth credit.