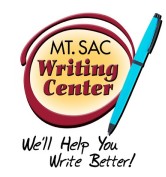 Welcome to the Mt. SAC Writing Center
Phone: (909) 274-5325 | Location: 26B, 1561A (behind the clock) | Make an Appointment
Summer 2016 Writing Center Hours

FACE-TO-FACE Tutoring Hours:
Monday - Thursday: 9:00 A.M. - 8:00 P.M.
Fridays - Sundays: Closed
ONLINE Tutoring Hours:
Monday - Thursday: 5:30 P.M. - 8:00 P.M.
Fridays - Sundays: Closed
---
NEW! DLA Tutoring Appointments
You can now schedule an appointment with a tutor to review your completed DLA. Login to WC Online and select the DLA schedule in the drop-down menu.
Writing Center Computer Lab Policies
Check out our new lab policies on our Policies and Procedures page.
Do you need to speak with a Writing Center staff member?
Give us a call at 909-274-5325
Want to see a tutor? Make an appointment in WC Online.
---
Mt. SAC Tutoring Centers Brochure: