Welcome to the Mt. SAC Writing Center
Phone: (909) 274-5325 | Location: 26B, 1561A (behind the clock) | Current Hours | Make an Appointment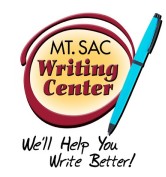 NEW! DLA Tutoring Appointments
You can now schedule an appointment with a tutor to review your completed DLA. Login to WC Online and select the DLA schedule in the drop-down menu.
Writing Center Computer Lab Policies
Check out our new lab policies on our Policies and Procedures page.
Study Abroad Workshop
The Writing Center now offers workshop that helps students write their personal statements for the Gilman Scholarship, a program that awards study abroad students up to $5,000.
Do you need to speak with a Writing Center staff member?
Give us a call at 909-274-5325
Want to see a tutor? Make an appointment in WC Online.
Mt. SAC Tutoring Centers Brochure: