← Return to Culturama Website

MAY 3, 2019 @ 12:30pm

Join us for the unveiling of mosaic murals featuring the geometric abstractions of Karl Benjamin recreated by mosaicist Alba Cisneros.

The Mural Project
Karl Benjamin's unique geometric abstractions represent a masterful depiction of the "Hard Edge" style of painting. The mural will offer art students an invaluable perspective on a contemporary art form and hopefully inspire them to further explore various means of art expression and application of color.
The Mt. San Antonio College Public Arts Advisory Council and the Mt. San Antonio College Foundation proudly announce the Art Complex Mural Project. The project is a living legacy to the art of Karl Benjamin. Through the efforts of the Public Arts Advisory Council, the College has become the beneficiary of the extraordinary work of this internationally renowned artist. Karl Benjamin has graciously donated the rights to paintings from his triangle series for use in a large-scale mural. These revered works are studies in the eclectic use of vibrant colors and abstract shapes. Mt. SAC is truly fortunate to have the opportunity to feature the unique works of Karl Benjamin in such a one-of-a-kind distinctive mural.
Karl Benjamin
Born in Chicago, Karl Benjamin began his undergraduate studies at Northwestern University in Evanston, Illinois in 1943. Interrupted by service in the U.S. Navy during WWII, Benjamin resumed his studies at Southern California's University of Redlands in 1946. Graduating in 1949 with a B.A. degree in English literature, history and philosophy, Benjamin began his career as a teacher with no intention of becoming an artist. However, his relocation to Claremont, California in 1952, shortly after he began "playing" with paint in 1951, galvanized his sense of his career path.
Though Benjamin continued to teach in public schools and later to great acclaim, as Professor Emeritus for Pomona College, the artist's work blossomed amid the extraordinarily lively art, design and architecture scene in Los Angeles in the mid-twentieth century. Numerous gallery showings of his work during the 50's culminated in 1959 with Benjamin's inclusion in the Los Angeles County Museum of Art's ground-breaking exhibition, "Four Abstract Classicists: Karl Benjamin, Lorser Feitelson, Frederick Hammersley and John McLaughlin."
Karl Benjamin's Work
The unconventional use of color has always been the subject of Karl Benjamin's paintings. His precise, razor-sharp geometric shapes saturate the canvas with bold vivid color. As a teacher of art, he has pushed his students to think "outside the box."
The vibrant works of hard-edge painter Karl Benjamin have been an influential part of California art since the early 1950s. Since his first solo exhibition at the Pasadena Art Museum in 1954, Karl Benjamin has participated in 42 solo exhibitions, 47 group shows, and 42 public collection museums. Among the many galleries featuring his works are the Long Beach Museum of Art, the San Diego Museum of Contemporary Art, the Santa Barbara Museum of Art, the Utah Museum of Fine Arts, and the Cheney-Cowles Museum in Spokane, WA. Since 1979, he has inspired generations of art students as an art professor at the Claremont Graduate School and as a Professor Emeritus.
In 2007, Karl Benjamin was also the featured artist in a major retrospective exhibition at the Louis Stern Gallery, West Hollywood. His paintings and other works of art are featured in innumerable articles and books. Today Karl Benjamin's paintings can be found in many public and private collections, such as the Whitney Museum of American Art in New York, the Seattle Art Museum, the Norton Simon Museum of Art in Pasadena, the Museum of Modern Art in Israel, and the Los Angeles County Museum of Art.
Benjamin was awarded the National Endowment for the Arts Grant for Visual Arts in both 1983 and 1989. His work has been featured in numerous museum exhibitions and is included in the public collections of the Los Angeles County Museum of Art; Museum of Contemporary Art, Los Angeles; Museum of Modern Art, Israel; Oakland Museum, Oakland, CA; San Francisco Museum of Modern Art, CA; Seattle Art Museum, WA; and the Whitney Museum of American Art, NY, among others.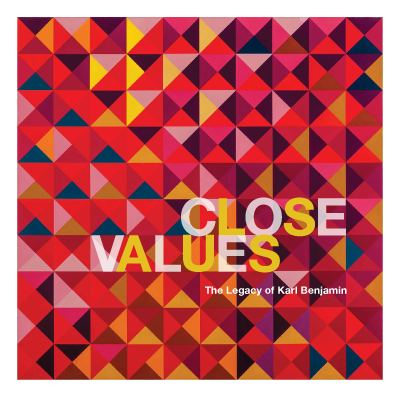 Close Values Exhibition at Mt. SAC
Interested in learning more about Karl's work? The Mt. SAC Art Gallery hosted Close Values: The Legacy of Karl Benjamin from September 22-December 8, 2016. You can find photos of the exhibition and a catalog including the works on display on our website.
Close Values Catalog
Close Values Exhibition Photos
The Mosaicist
Mt. San Antonio College has commissioned Alba Cisneros to revive the dynamic quality of Karl Benjamin's artwork in a large scale mosaic mural for this unique project. The close friendship between the Benjamin and Cisneros families over the past 55 years played a major role in Ms. Cisneros' understanding of Mr. Benjamin's unique compositions. Her lifetime exposure to his paintings, along with her extraordinary talent as a mosaic artist, highly qualifies her to fabricate this monumental project.
Ms. Cisneros' career dates back to 1975, when she started working with Millard Sheets. After Sheets' retirement, she joined his contemporary, Denis O' Connor, to further hone her skills. The large-scale murals fabricated for the former Home Savings and Loan Buildings across Southern California are some of her most recognizable projects-many of which can still be enjoyed today.
Event Details

Date & Time

Friday May 3, 2019
Time: 12:30pm

Location

1100 N. Grand Ave.
Walnut, CA 91789
Unveiling will be held south of Building 1A

Open Interactive Map

About the Public Arts Advisory Council

The Mt. SAC Public Arts Advisory Council was formed as an ad hoc group to provide leadership, guidance and support of Mt. SAC's commitment to art in public spaces on campus. Art on college campuses inspires creative minds and provides students with opportunities: to see "outside of their own world," to envision a place of opportunity, and to celebrate the excellence and distinction that has become Mt. SAC's hallmark. The Public Arts Advisory Council is composed of both campus representatives and members of the community.