Upcoming Exhibits

71st Annual Student Art Exhibition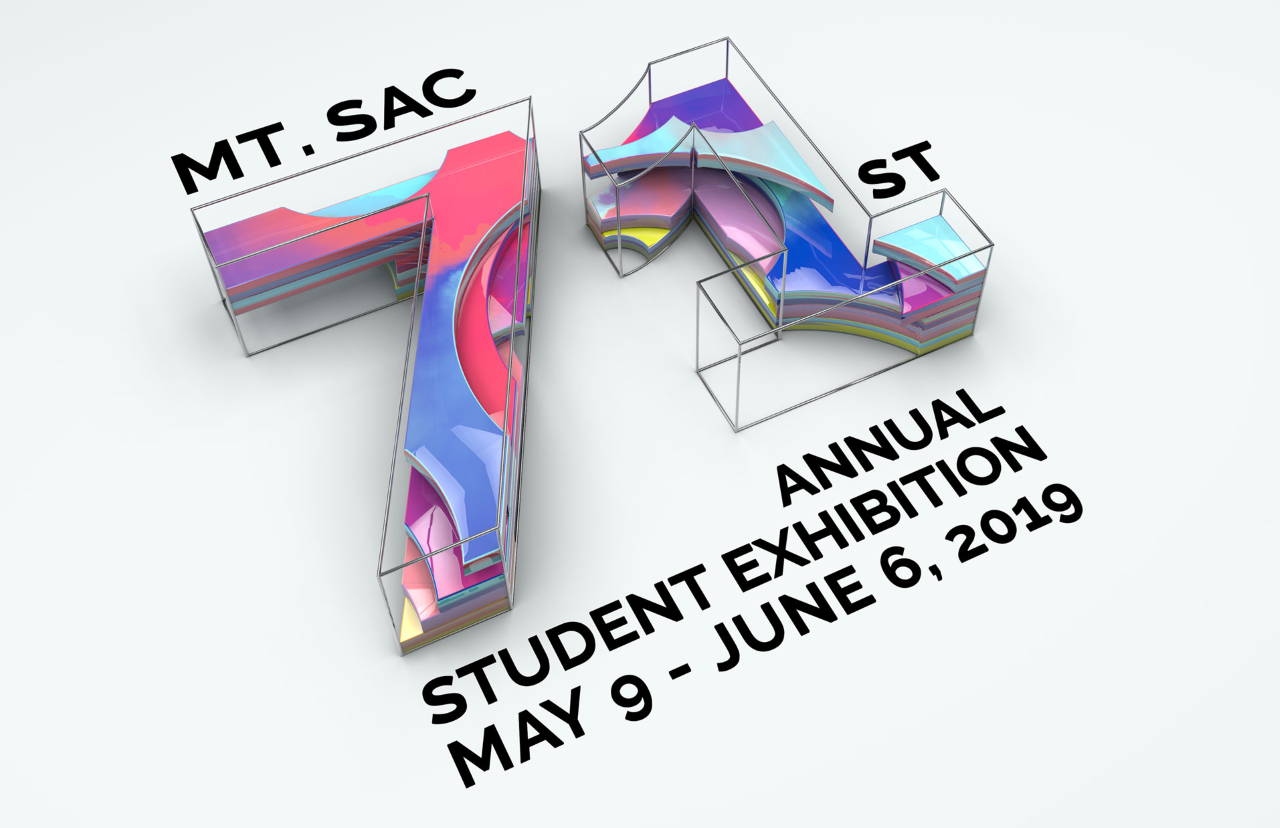 MEDIA ADVISORY
EXHIBITION:
71st Annual Student Art Exhibition
ARTIST:

Mt. SAC Art, Animation and Photography Students
DATES:

May 9-June 6, 2019
ARTIST RECEPTION:

Thursday, May 9, 2019 | 4:00-6:00 p.m.
LOCATION:
Mt. San Antonio College Art Gallery


1100 N. Grand Ave., Walnut, CA 91789
HOURS:

Daytime: Tuesday-Thursday, 11:00-2:00 p.m.




Evening: Tuesday, 5:00-7:30 p.m.
ADMISSION:

Free and open to the public
EXHIBITION DESCRIPTION
The Mt. San Antonio College Art Gallery is pleased to host the 71st Annual Student Art Exhibition. This exhibition is a juried event that includes original artwork by the art, animation, and photography students at Mt. San Antonio College.
Excellent media interview and visual/photographic opportunities can be arranged with the artist at the May 12 reception. For arrangements and additional information, call Selena Robles at the Mt. SAC Art Gallery at (909) 274-4328, Tuesday-Thursday from 8:00 a.m. to 2:00 p.m. Fax: (909) 468-3954 | E-mail: srobles1@mtsac.edu
MT. SAN ANTONIO COLLEGE ART GALLERY
From its inception in 1954, our Gallery program has consistently complemented this enduring process by presenting traditional and contemporary art in fluid and dynamic presentations that nurture pluralist values and traditions and addresses a multitude of multicultural issues and concerns. With the support of our campus community, the Art Gallery team has been able to advocate and stimulate a general interest in art through special programs and events, making these exhibitions readily accessible to the widest possible audience.
---
Mt. San Antonio College · 1100 N. Grand Ave. Walnut CA 91789
(909) 274-4328 · (909) 468-3954 fax
artgallery@mtsac.edu · artgallery.mtsac.edu


Hours
Tuesday - Thursday 11 a.m. to 2 p.m.
Tuesday Evenings 5 to 7:30 p.m.
Closed Friday through Monday
Location
Mt. San Antonio College Art Gallery
Building 1B/C
1100 N. Grand Avenue
Walnut, CA 91789
Campus Map
Admission
Free Admission
Parking: $4/Day or Parking Permit