.
MATH TUTORING
Walk-in tutoring for math is available on a first-sign up, first served basis. Tutoring sessions typically last up to 20 minutes. Students may have more than one session per day. Back to back sessions are discouraged because students need a chance to try the problems on their own.
Most tutors can tutor Math 50 Pre-Algebra through Math 181 Calculus and Analytic Geometry; some tutors can tutor Math 280 Calculus and Analytic Geometry. Tutoring for Math 110 Elementary Statistics may be limited. Please call (909) 274-6605 for the current tutor availability.
Students enrolled in Math 50 through Math 71 Intermediate Algebra may also use the Math Activities Resource Center (MARC) located in building 61-1318. Students enrolled in Math 100 through Math 285 may also use the Transfer-MARC in building 61-1314.
In addition to drop-in tutoring, online tutoring for math is also available. Click here for more information.
.
WRITING TUTORING
Writing tutoring is available during all hours of operation. Each tutoring session lasts thirty minutes. Students may have more than one tutoring session per day. Back-to-back sessions are not allowed because covering excessive material at one time can overwhelm students and compromise their learning. To make the most of each tutoring session, students should come prepared with their reading materials, assignment sheet(s), any feedback from their instructor, and other faculty instructions. Having these materials ready saves the tutor and the student time and makes for more focused tutoring sessions.
Two ways to access writing tutoring:
Faculty can support their students' growth as writers by:
Sending a copy of their syllabus, assignments, evaluation criteria, instructions for tutoring sessions.
Meeting with tutors to convey expectations.
Taking students to visit Tutorial Services or having a representative speak to the classes.
Giving Tutorial Services feedback.
Conducting office hours in Tutorial Services.
.
MULTIPLE-SUBJECT TUTORING
Multiple-subject tutoring schedule may be obtained by contacting the front desk (909) 274-6605. Besides Math 50-71 and writing courses, tutors are also available for the following subjects:
• Chemistry
• Accounting
• Physics
• History
• Foreign Languages - Chinese, French, Japanese, Spanish
• Psychology
• Sociology

Online tutoring for science is also available. Click here for more information.
If there is a course for which tutoring is needed but is not listed, please visit or call Tutorial Services at (909) 274-6605.
.
STUDY GROUPS

How to Use Study Groups:
Student-initiated: get two or more students to schedule a study group at Tutorial Services front counter or call (909) 274-4366.
Faculty-initiated:
Invite a Tutorial Services representative to your class to organize study groups.
Send students to Tutorial Services. Send/recommend a student tutor to be hired by Tutorial Services to conduct the study groups (prospective tutor must have earned a grade of "A" or "B" in the class).
Call us to set up the group.
Fill out a Study Group Request Form and send it by email to pbeshay@mtsac.edu , or by fax (909) 274-2035, or by campus mail (takes a day or two).
Policies and Procedures:
Groups are established on a first come, first served basis.
All study groups and exam review sessions are subject to tutor and room availability.
Resources dictate the number of groups available to each department.
Groups with consistently minimal attendance may be subject to alternative arrangement or cancellation (i.e. groups may be cancelled, and individual students may be served through drop-in tutoring).
Groups may meet up to two hours at one time.
All study group sessions will be cancelled after 15 minutes if no students are present.
Groups cancelled twice for "no show" will be officially terminated. Students may begin another group by going through the process again.

Establishing and Conducting Study Groups:
Students and/or faculty may contact Tutorial Services to request a common day and time to meet on a weekly basis. They may also request a tutor and a room. If a tutor is not available, faculty may recommend a tutor.
Tutorial Services will locate a classroom or study room whenever possible; at times, faculty assistance in locating a room may be necessary.
Unless one student is identified as a contact person, Tutorial Services' staff will contact all students listed. If a student is identified as a contact person, that student assumes responsibility for contacting other members of the group with study group information.
Study groups meet outside of/in addition to class time. Groups may not meet during class time while instruction occurs.
All students involved in study groups must register for tutoring and adhere to Tutorial Services "Terms and Conditions of Student Use." Copies of these Terms are available at the Tutorial Services counter in 6-101.
.
SUPPLEMENTAL INSTRUCTION
The program's mission is to increase student retention and persistence rates in traditionally difficult courses. Modeled after the University of Missouri-Kansas City's nationally recognized SI Program, the Supplemental Instruction leaders (SIs) provide students with highly structured three hours of out-of-class weekly study sessions.
Supplemental Instruction leaders (SIs) attend classes with students, meet with instructors weekly, and design sessions to meet students' learning needs. SI sessions are based on material covered in class and instructors' emphasis on specific concepts. SI sessions focus on processing course content through collaborative learning strategies and study skills.
In the academic year 2004-05, SIs were assigned to classes whose weekly study sessions were well attended by students. These classes were predominantly in Math, Astronomy, Biology, Chemistry, and Physics, with a few sections in English, Political Science, and one American Language course. SI sections in the sciences enjoyed the highest attendance, followed by Math.
In internal studies on student attendance in SI sessions, students who participated in SI at least six hours per semester increased their overall course grade by one-half grade to 1.25 grades compared to non-participating counterparts in the same class.
SI leaders are hired on an as-needed basis. Typical SI subjects needed for fall and spring semesters are English 67-68, Math 50, 51, 71, 110, 160, 180, and sciences (vary by semester). Summer subjects include English 67, Lern 49, Lern 81, and Math 50. Interested candidates may pick up an SI Application packet from the Tutorial Services counter or download the forms below. SI applications must be complete before they will be considered. Due to the confidential nature of applicants' information, it is advisable that applicants deliver their completed packets in person.

SI Applicants:


Current SI Leaders:

For more information, please contact the SI Program Coordinator at (909) 274-4572 or efigueroa@mtsac.edu.
.
IN-CLASS PRESENTATIONS
Would you like a Tutorial Services representative to tell your students about the services we offer? In ten minutes or less, we can give students information about our location, hours, and types of services. We also use the opportunity to give students an overview of what they can expect when they come to Tutorial Services. Please click here for the request form or contact Lester Lawenko via email llawenko@mtsac.edu .

IN-CENTER TOURS
With your help, many students will be familiar with the academic resources in the Library and Learning Assistance Center : library, the open computer center in the Learning Lab, tutoring in Tutorial Services, and taking make-up exams or exams for Distance Learning courses.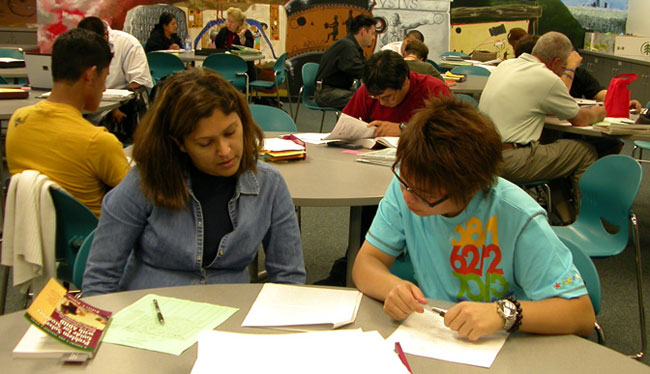 Faculty and staff may want to schedule visits to all the services in the Learning Technology Center during the same class period.
To schedule a visit, please contact the following:
Library - Call the circulation desk at (909)274-4260
Learning Lab - Robin Cash at (909)274-5666 or rcash2@mtsac.edu
Tutorial Services - Lester I. Lawenko at (909)274-6612 or llawenko@mtsac.edu
Testing Center - LAC Information Counter at (909)274-4300