Veterans Resource Center Events
2018 VETERANS RECOGNITION CEREMONY
Graduating and/or transferring military connected students will receive their official Veterans Medal of Achievement on Thursday, June 14, 2018 at the Veterans Recognition Ceremony hosted by Mt. SAC's Veterans Resource Center. The Mt. SAC Veterans Recognition Ceremony began in 2009 to honor Veteran students who have reached their program goals.
"It is a great honor to be able to award our Veterans and military connected students with this medal," said Desiree A. Campos Marquez, Manager of the Veterans Resource Center. "We are proud of the hard work and sacrifices our students have made to be able to meet their educational goals and are honored to recognize their achievements in front of their families and the campus community."
The ceremony will take place at Founders Hall and begin promptly at 6:00 pm (a light reception will begin at 5:30 pm). For more information, call (909) 274-4456. RSVP to veteransAT_mtsac.edu
THE STUDENT EQUITY SPEAKER SERIES PRESENTS
OZ SANCHEZ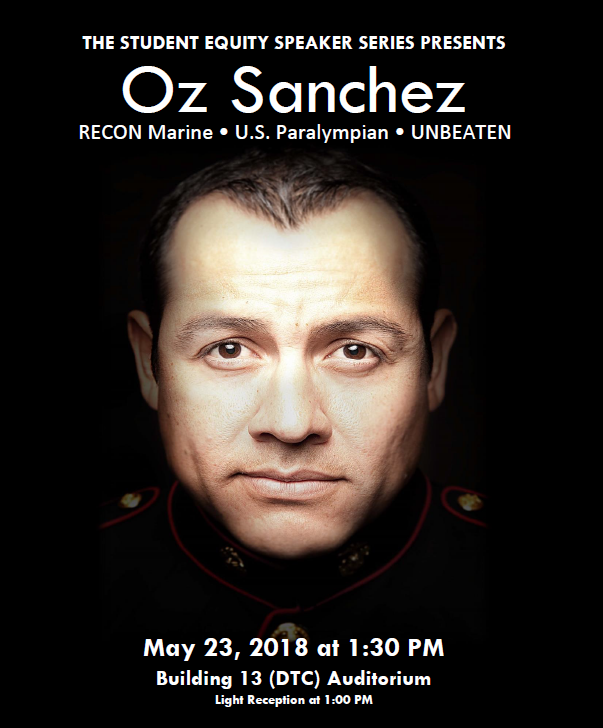 Oz Sanchez is a Special Operations Veteran whose life took a tragic turn following a spinal cord injury that left him paralyzed. The Mt. SAC Veterans Resource Center invites you to hear how Oz transformed his life, going from deep depression to earning his Bachelor's degree in Business Management and becoming a three-time Paralympian.
May 23, 2018, 1:30 p.m., Building 13 Auditorium
Sponsored by the Mt. San Antonio College Student Equity Initiative.
For more information, call (909) 274-4456.