EOPS/CARE/CalWORKs Study Center
"Our goals of tutoring are to help improve students' academic performance, increase their self-confidence, and also promote effective study techniques to encourage the development of independent life-long learners."
Types of Tutoring Available
One-On-One Tutoring: Students have the opportunity to pair up with an assigned tutor for the duration of the semester for one-on-one tutoring (up to two hours per week/per subject).
Drop-In Tutoring: Drop-in tutoring is always available for those seeking help with math. For assistance with English, call or stop by to make a one-time appointment with an available English tutor.
Subjects Offered
MATH: Up to Math 181
ENGL: Up to English 1C
READ: 80,90
LERN: 48, 49, 81
SPCH: 1A
PHYS: 2AG, 2BG, 4A, 4B
CHEM: 10, 40, 50
* Please note: Subjects offered will vary by semester.
How to sign up
Taking advantage of EOPS/CARE/CalWORKs tutoring is easy.
To sign up, you must:
Be an active EOPS/CARE/CalWORKs student
Be enrolled in the class
Bring your student ID to the Tutoring office in Bldg. 6, Rm 108
**Remember, our tutoring center is open year round; but each semester you have to stop by and re-sign up for tutoring.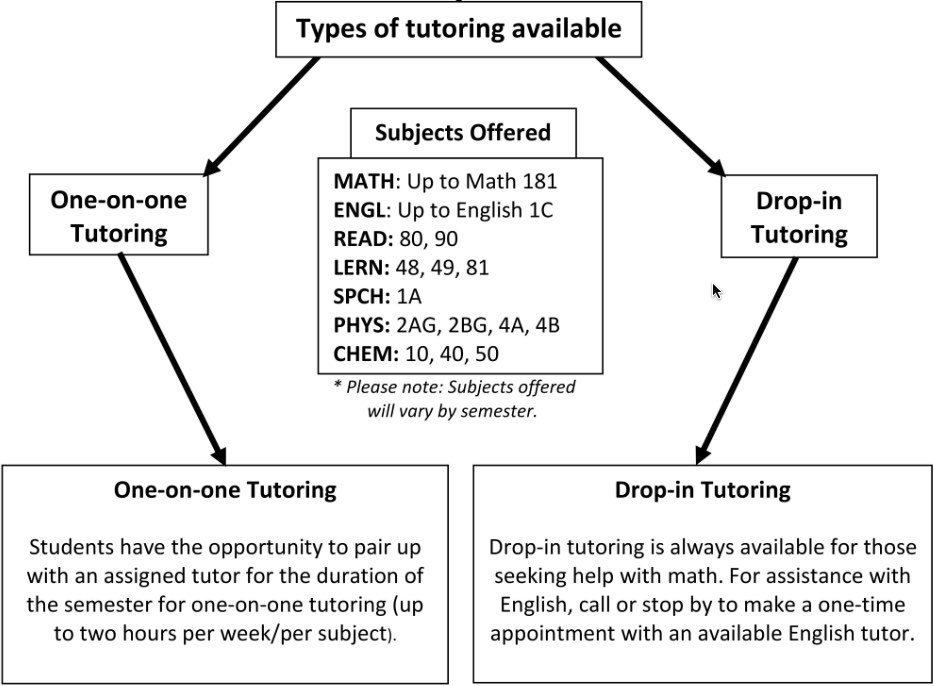 Here are Some Facts About Our Study Center
Since the EOPS/CARE/CalWORKs tutoring program integrated as a whole, we have seen our services grow. More and more students have realized the benefits of peer tutoring and are taking advantage of our services. This year, we have surpassed our number of students served and have observed an increase in attendance hours; while still maintaining an 89% average success rate. (A success being defined as a student utilizing our tutoring services and receiving a passing grade of C or better in their course.)
Our tutoring model is simple. We believe that quality learning takes place when peers work collaboratively to develop knowledge and build skills. For that reason, our tutors have the opportunity to gain mastery of the subjects they tutor, to learn how to support their fellow students, and gain working experience while still attending college themselves. Concurrently, students who use our tutoring services find that academic support helps them complete their classes successfully, develop effective study habits, gain a deeper understanding of their course material, as well as learn long-term skills that can help them become more successful in all of their courses.
The following table shows students usage trends for the last five years:
| Academic School Year | Students (Number of Students Tutored) | Visit (Students Hours Spent in Tutoring) |
| --- | --- | --- |
| 2010-2011 | 222 | 3,164 |
| 2011-2012 | 220 | 7,798 |
| 2012-2013 | 238 | 7,819 |
| 2013-2014 | 339 | 9,553 |
| 2014-2015 | 423 | 12,523 |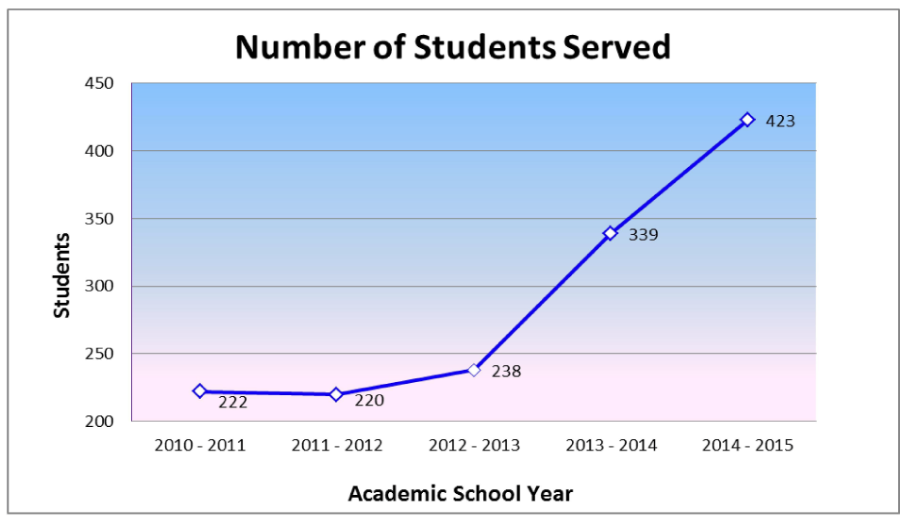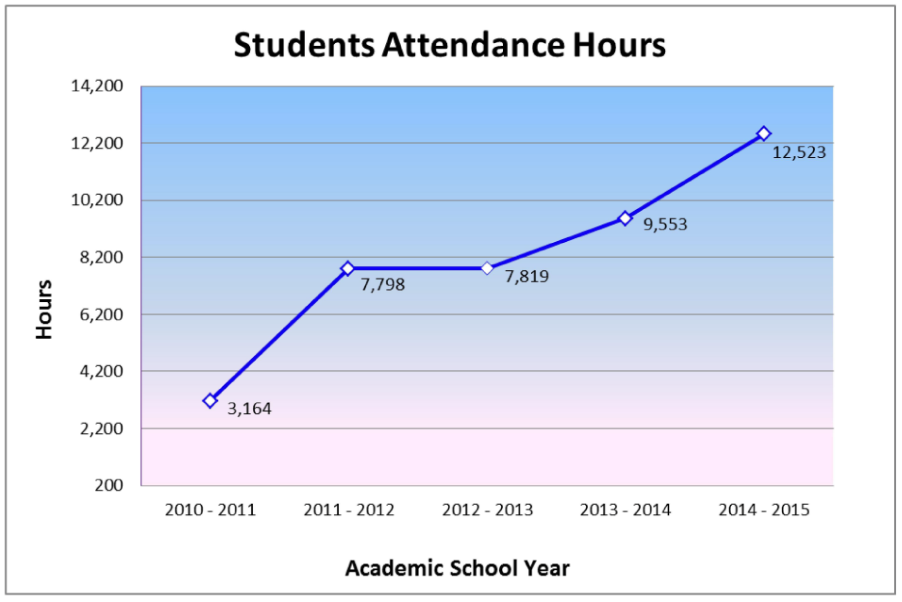 Become a Tutor
The EOPS/CARE/CalWORKs Study Center hires high performing students to work part-time as tutors throughout the semester in a variety of subject areas, including but not limited to:
English, Math, Chemistry, Physics, Speech, and Reading
If there is no current need for the subject you want to tutor, you are still encouraged to fill out an application. There may be a need for your subject later in the semester. Due to the large number of applications received, applicants will only be contacted if an interview is warranted.
Advantages of being a tutor include:
Flexible Schedule
Friendly Working Environment
Great Work Experience
Looks Good On Resume
Satisfaction Of Helping Students
Reinforces Knowledge Of Subject
The minimum qualifications to be a tutor include:
3.2 GPA
A or B Grade In Classes To Be Tutored
Recommendation From Instructor For Each Subject Area
Copy Of Transcripts (Unofficial)
Excellent Communication Skills
Interview With Tutorial Coordinator
All tutors are required to complete two appropriate tutor training courses (TUTR 10A, 10B, 10D) within the first two semesters of employment. Please refer to the Mt. SAC schedule of classes for course days and times. These classes may be waived for applicants with advanced degrees or prior tutor experience at the discretion of the EOPS/CARE/CALWORKs Study Center Coordinator.
If you meet the qualifications and requirements listed above and are passionate about helping students, please fill out the tutor application form and submit it to the tutorial coordinator in Building 6, Room 108. If you would like more information about becoming a tutor, please contact us at (909) 274-4690.
---
USEFUL TUTORING RESOURCES AND HANDOUTS