Fall and Spring Hours
Resource
Location
Hours
Learning Assistance

Learning Lab
Bldg 6 - Rm 101

Bldg 6 - Rm 120

Mon - Thurs

: 7:30am - 10:30pm


Fri

: 7:30am - 4:30pm


Sat

: 8am - 6pm
Learning Assistance Resource Center
Bldg 6 - Rm 115

Mon - Thurs

: 7:30am - 10:00pm


Fri

: 7:30am - 4:30pm


Sat

: 8am - 6pm
Tutorial Services
Bldg 6 - Rm 110

Mon - Thurs

: 9am - 7pm


Fri

: 9am - 1pm


Sat

: 9am - 4pm
Testing Services
Bldg 6 - Rm 102
*No tests will be given in the last hour


Mon - Thurs

: 7:30am - 9:30pm
(Tests must be completed by 9:30pm)


Fri

: 7:30am - 3:30pm
(Tests must be completed by 3:30pm)


Sat

: 8am - 2pm
(Tests must be completed by 2pm)
Winter and Summer Hours
Resource
Location
Hours
Learning Assistance

Learning Lab

Learning Assistance Resource Center
Bldg 6 - Rm 101

Bldg 6 - Rm 120

Bldg 6 - Rm 115

Mon - Thurs

:8am - 8pm
Tutorial Services
Bldg 6 - Rm 110

Mon - Thurs

:

10am - 5pm

Testing Services
Bldg 6 - Rm 102
*No tests will be given in the last hour


Mon - Thurs

:

8am - 7pm


(Tests must be completed by 7pm)
Location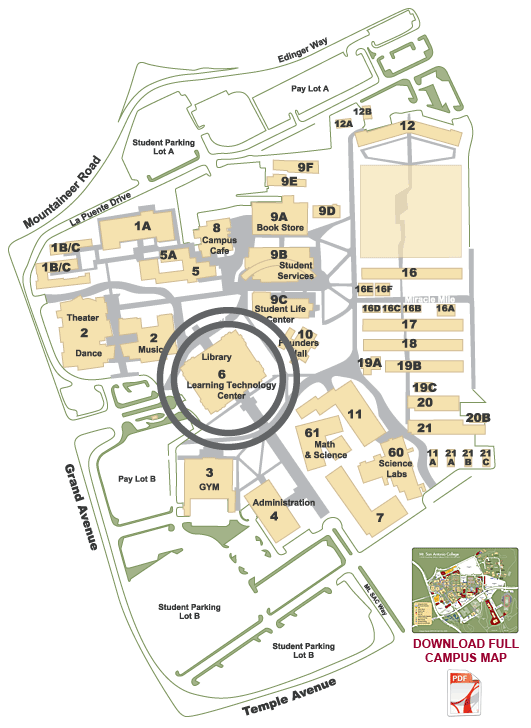 ---
Learning Lab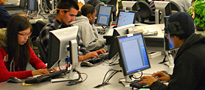 Questions? Call (909) 274-6601
Location
In Building 6,on the first floor of the Learning Technology Center, (see "B" on map) the Learning Lab is a computer/media lab available for students from all divisions on campus and the community.


Requirements
Registration for use of the Lab is necessary upon first time use per semester.
Students are required to present a current Student Picture I.D. at the front desk to access the Lab upon each visit.


Resources
Both PC and MAC computers are available in the Learning Lab.
All computers in the lab have access to the Mt. SAC Library databases, Internet, word-processing, spreadsheets, and a variety of course-related software.
New course-related software is continually being made available (call extension 6601 for inquiries of software support to complement your educational requirements).
Laser printing is available for a fee (10 cents per page for black & white, 25 cents per page for color).
A print card dispenser is located in the lab for student convenience.


Support
Technical and Academic assistance (Tutors) are available for students who need help using a computer or specific programs, setting up an e-mail account, and using databases for research.
Workshops are offered on appointment basis to assist students who want more instruction on word-processing, E-mail, database/web research, PowerPoint and course-related materials.
---
Testing Services
Do you need to make up an exam or take a test for an online course? Talk to your instructor about Testing Services at the LAC. We will get the exam from your instructor, provide you with a quiet space to take your exam (and keep an eye on you while you're taking it!), and keep the test safe and sound for your instructor to pick up. Call Tiefa or Barbara at (909) 274-4300 if you have any questions, or email Tiefa at tfisher-gabriana@mtsac.edu or Barbara at baharris@mtsac.edu.
*Test monitoring for tests fromother colleges
is temporarily suspended as of January 1, 2012
---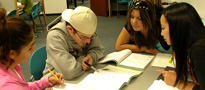 Tutorial Services
Writing Appointments
Online Tutoring
Tutoring Centers Brochure
Tutorial Services is dedicated to providing students with services that promote independent learning, academic confidence, and attainment of educational goals.
Questions? Call (909) 274-6605
Types of Services
All services are free to all currently registered Mt. SAC students who do the following:
Present a valid Mt. SAC student identification card for each visit.
Sign up for tutoring each term by filling out a registration form. Students may receive services on the same day they register.
Comply with our Terms and Conditions for usage.
Types of Services


How to Apply as a Tutor
Mission
In order to strengthen scholastic achievement and motivate academic discourse within the multifaceted community of Mt. San Antonio College, Tutorial Services is dedicated to providing students and community members with drop-in tutoring, Supplemental Instruction, and study groups that promote independent learning, the acquisition of the tools and resources necessary to take control of one's education.
Vision
In the interests of quality service and academic achievement, Tutorial Services creates a learning environment that provides students with access to tutors and resource materials of superior standards. We provide comprehensive and progressive training for our tutors and staff. Through these means we develop students' desires to successfully meet and surpass their academic and vocational goals.
---
Why Visit the LARC?
Work on your assignment
Pick up assignment
Get help from tutors
Meet with classmates to work on a project
Use solutions manual to check answers on assignments
Group review sessions available by request
Have a quiet place to do your work
Learning Assistance Resource Center (LARC)
The LARC provides support (tutoring) services for:
LERN 48 and 49 (Math)
READ 70 and 80
LERN 81 (Writing)

The LARC also supports courses offered through the college's community education--LERN 61 and Continuing Education.
We encourage all students to seek out available resources for academic success!
LARC Philosophy
The LARC's aim is to provide resources and tutoring assistance to students enrolled in reading, writing and math review courses; we believe in scaffolding students to independent learning and self-discovery within a welcoming and supportive environment. Skills Development Instruction offers the same opportunities to students through an independent-study, credit/non-credit format.